I have gotten back into a regular exercise program to both improve my fitness and loss weight (I have a little more body fat on me than I care to). Weather I am at the gym or just among friends/family, I always hear people asking about water and how it affects weight loss.
There are many published reports and studies about the benefit of drinking water (not just during weight loss) but it seems like most people do not understand how water helps you loss weight, so here we go…
The simplest part of the answer is that water has no calories and fills up the stomach, making people less hungry and therefore they tend to eat less. Studies have shown that drinking 16oz of water a half-hour before eating results in consuming about 75 fewer calories.
Unfortunately many people are getting too many calories from beverages (other than water) throughout the day.  Several studies have proven that excessive calories from beverages are the primary cause for the increase of overweight and obese people in the United States!
"The fewer calories we get from beverages, the healthier we're going to be."
As people consume more (and more) calories from their beverages they do not compensate by eating or drinking less overall.  As recently as 2003 the average calories from beverages was only 2%–4% of our total calories, while today our average beverage intake now accounts for nearly 21%.
We also know that keeping the body properly hydrated promotes water weight loss, initial weight loss is almost always from water loss. Drinking water help us eliminate excess water and sodium from the body. When people do not drink enough water to stay properly hydrated (and most people live in a state of dehydration) the body enters survival mode and begins to store water throughout the body (particularly the ankles, hips, thighs and even belly). After we correct the dehydration status and then continue to replenish our bodies with water, we begin to eliminate the excess water that is stored though out the body.
If you're serious about becoming leaner and healthier, drinking water is an absolute must!
To a lesser degree we know (through studies) that drinking water can cause an increase in the bodies metabolic rate (the rate at which calories are burned). After drinking approximately 17 ounces of water, the metabolic rate of test subjects increased an average of 30% for both men and women. The increases occurred within 10 minutes of water consumption and reached a maximum after about 30 to 40 minutes.
Water also contributes to weight loss by helping rid the body of toxins. Toxins are created as the body burns calories (eliminates body fat) and water plays a vital role in flushing those toxins out of your body.
In addition to weight loss, water can just make you look better.
It flushes out impurities in your skin, leaving you with a clear, glowing complexion. It also makes your skin look younger. Skin that is becoming saggy, either due to aging or weight loss, plumps up very nicely when the skin cells are hydrated. Water improves muscle tone.
You can lift weights until you're blue in the face, but if your muscles are suffering from a drought, you won't notice a pleasant difference in your appearance.
Muscles that have all the water they need contract more easily, making your workout more effective, and you'll look much nicer than if you had flabby muscles under sagging skin.
Water Facts
About 70% of the fat-free mass (muscle, organs, bones, etc.) of the human body is made of water.
Every process that your body carries out is in a medium of water. If dehydration is in effect, the efficiency of these processes will decrease.
Human brain tissue is roughly 85% water, if you're dehydrated, brain activity is decreased. This can result in depression, or chronic fatigue.
Water carries every nutrient, mineral, vitamin, protein, hormone and chemical messenger in your body to its destination.
Proteins - the essential building block of muscles and the main metabolism booster, only functions efficiently in the presence of the correct amount of water.
The average adult loses up to 12 cups of water per day, simply through necessary bodily processes like respiration, perspiration, and excretion.
Water consists of roughly 83% of your blood.
Water makes up 20% of your bones.
Water regulates your body temperature, maintains your equilibrium, help the liver break down toxins, and releases more fat from your adipose stores.
Water serves to hydrate your joints. (This is particularly important if you are a runner.)
So how much water should you drink during the day?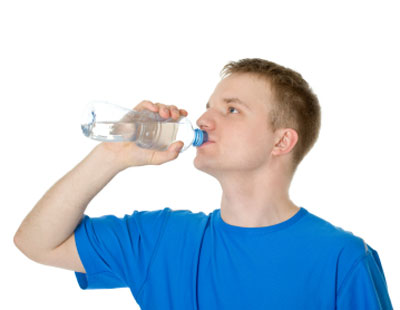 I'm sure you have all heard the 8-glasses-a-day speech. Unfortunately, this "fact" cannot be traced back to any real source of scientific evidence. The latest recommended intake by the National Research Council is 2.7L (91 ounces) of water per day for woman and 3.7L (125 ounces – that's 15 cups) of water per day for men.
My two guidelines to follow when determining how much water to drink (hey, this works for me and does not requires math or tracking):
Do not allow yourself to feel thirsty! Dehydration has already began if you're starting to feel thirsty.
Drink water throughout the day. Carry around a water bottle with you throughout the day (and refill it).