First let me be clear about one thing, I am not a serious runner. In fact, until very recently I've hated running! But the reality of my exercise / fitness program is that running must be apart of it, so it I must run it should at least be fun (to some degree).
Running in Bristol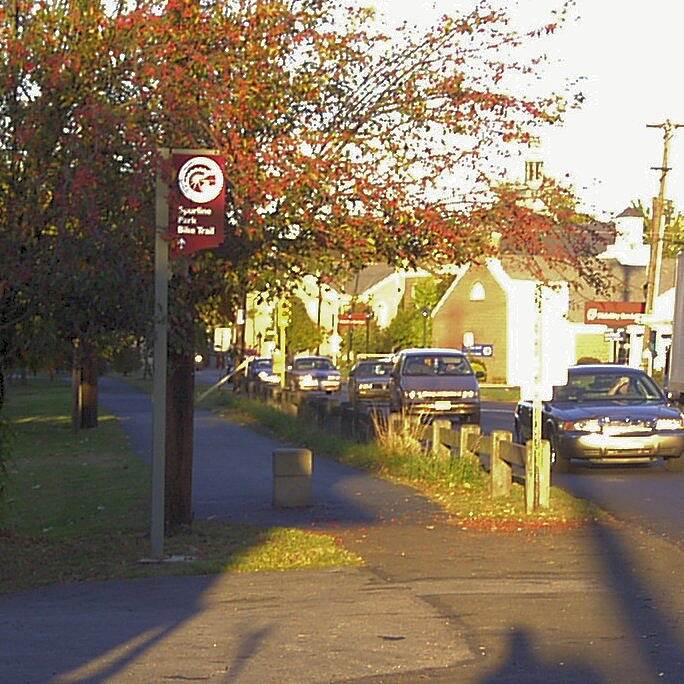 The Bristol Spur-Line Trail is a great path to follow, this 3.0 mile asphalt trail starts behind Mill Street along the marsh following the old canal tow-path and then connects to the old rail line. The trail goes down along Green Lane to the section near the Delaware River behind the old Purex (the old Kaiser-Fleetwings property for the really old readers – just kidding). The path continue down Radcliffe Street back to the Mill Street Parking Lot. The path is flat and smooth, it can be used for in-line skating (I guess four-wheels if anyone still has those) and bicycling as well.
Besides running for health, I like events that support great and worthy causes! Please, check out these runs and their causes.
Bucks County Heroes Scholarship Fund – St. Patrick's Day 5K
The Bucks County Heroes Scholarship Fund was formed for the purpose of providing scholarships to the children of police officers, firefighters, rescue squad, correctional officers and emergency service personnel who are killed or permanently disabled in the line of duty.
The run is being held on March 17th, 2012 (St. Patrick's Day) at the Shrine of Our Lady of Cezestochowa (Doylestown, PA). There are multiple events to participate for running (and walkers) of any level.
The main event is the 5K run
One-mile (timed) Kids Run
Un-Timed One-mile Family Run / Walk
After the runs a hot meal of corned beef and cabbage is included with your registration. Registration for the run is $35.00 and includes your meal and t-shirt! For more information and to register visit the Bucks County Heroes Scholarship events page.
Tough Mudder
Tough Mudder events are hardcore 10-12 mile obstacle courses originally designed by British Special Forces to test your all around strength, stamina, mental grit, and camaraderie. Funds raised during Tough Mudder events go to the Wounded Warrior Project.
The organizes of the event will tell you that the Tough Mudder is more than an event, it's a way of thinking. By running a Tough Mudder challenge, you'll unlock a true sense of accomplishment, have a great time, and discover a camaraderie with your fellow participants that's experienced all too rarely these days.
The Pennsylvania Tough Mudder will be held April 28th & 29th at Pocono Manor. The Saturday event is actually SOLD OUT already and the Sunday event is going quick. Because of the popularity of the event here in Pennsylvania a second weekend has been added at Pocono Manor – May 12th & 13th! For more information and to register visit the Tough Mudder website, don't wait or you'll miss out on this great event!
Run for your Lives!
Okay, running events for a great cause are a terrific thing but here is a something completely different to check out!
The Run For Your Lives is a first-of-its-kind event, one part 5K, one part obstacle course, one part escaping the clutches of zombies — and all parts awesome.
During this 5K run you are challenged with 12 obstacles (kind of like Tough Mudder) but you also have to out-run ZOMBIES! The zombies are roaming around the course trying to grab your flags (similar to flag-football). At the end of this adventure race, you get to celebrate survival (if you've kept at least one of your flags) or go through zombie transformation with live entertainment and music, local celebrities, vendors and food!
The closest Run for your Lives event to Philadelphia will be in Baltimore, MD on October 27th, 2012. For more information or to register visit Run for your Lives! website.
I hope you'll think about participating in some of these events – see you on the run!